Explore 42explore Projects - topic or subject index.
Read!Write!Think!
Read!Write!Think! Letter Generator
Read!Write!Think! Calendar

Look Closely
Private Eye, BBC Learning: Plants, Most Wanted Bugs, and Photo Gallery

Possibilities & Perspectives
American Memories, Primary Resources and Real-World Data, National Archives
75 Ways to Use Digital Camera, Google Images

Introduce Ambiguity
BBC Human Body, National Math Trail
Collaboration and Communication
Identify Problem
Collect Data
Graph Data - NCES Create a Graph website
Write Conclusions
Reflect on Activity

Explore Visual Resources from Teacher Tap
Map of the US
TerraServer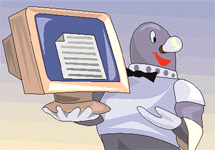 8Ws
Watching
Wondering
Webbing
Wiggling
Weaving
Wrapping
Waving
Wishing

Explore Multimedia Seeds including Radio & Audio Webcasts, Remote Audio, Remote Music, Video Clips, Streaming Video, Remote TV.

Explore 42explore Projects - topic or subject index.
42explore: Owls


Explore Evaluating Internet Resources.
Explore News Resources from Teacher Tap.
Headline Spot

Explore Web-based Contests, Fairs, & Publishing from Teacher Tap.
Explore ThinkQuest Projects
Student ThinkQuest - Owl Project
Explore Online Annual Events from Teacher Tap.
Go to Houghton Mifflin Evaluation Station. Explore tools for self-evaluating different types of writing such as Opinion Essay, Persuasive Essay, Compare-Contrast Essay, Research Report, Personal Narrative, and Story. This is good practice using the web for reading and interaction.

Explore Information Inquiry for Teachers.
Explore Big 6.
Explore InfoZone.
Explore Research Cycle.

Explore the Georgia Critical Thinking Skills Program. It contains links to lessons and resources in many areas of critical thinking. Notice how technology enriched the lesson.
Explore the Creative Thinking page. It contains a step-by-step process for promoting creative projects.


Explore Teacher Tap.
Explore Interactive Websites, Games, and Activities from Teacher Tap.
Imaginator
---