Technology and Practice
We do specific exercises such as abdominals or pushups to address body strength needs. Over time, all those crunches really do make a difference. We do mental exercises to practice reading, writing, or math. However just as jumping jacks get tiresome, basic skills practice becomes boring too. Why do I need to know math, science, reading? Young people get bored fast when there's no meaning or application. Design an environment where technology is one of many elements that meet the needs of young people.
Practice and Skills Development
While some students may need extra practice, others might be ready for a challenge. As you plan lessons, use technology resources to accommodate the learning needs of students.
Elementary Example - You may have a new child in your classroom that missed analog and digital clocks. A practice game may be very helpful. Does your child need 30 minute, 15 minute, 5 minute or 1 minute practice? Or, does you child just need help with analog hours? Focus the practice to meet the need.
Middle/Secondary Example - You may have students who have difficulty with Spanish language pronunciation. A tool like Learn to Speak Spanish might be useful. Focus practice to meet the specific need. For example, use Latin American Network for Spanish language reading and listening. Some students are more successful when they can try out ideas using a tool such as the Car Storm Chaser from Illuminations Activities to work with vectors in math.
Try It!
Look for practice resources that could be used to support the learning needs of specific students.
- How will you ensure that the practice meets the learning needs?
- How will you make these resources available "just-in-time" so students are challenged, yet not overwhelmed?

K-2 Interactives by Subject Area
3-6 Interactives by Subject Area
7-12 Interactive by Subject Area
Elementary - Reading, Writing, Math
All Grades - Library of Congress: Interactives
All Grades - Flash Interactives
All Grades - CBS News Interactives
All Grades - PBS Interactives
Art - Mixing Primary Colors, Resolution and Color
Computer & Technology - Password Security Agency, Robot Obstacle Course
Math - Illuminations Math Interactives, Mathematical Interactives, Virtual Manipulatives, Cut the Knot, Bank High School, Binary Balance
Science and Health - Astronomy Interactives, Scholastic Interactives, Science View, Science Links , Edheads (Weather, Simple machines), Design a Panda Habitat, MyPyramid.gov
Science and Social Studies - National Geographic Interactives
Specials - Art, Music, ESL, Library, Guidance... Interactives
Designing the Learning Environment
Think of the interactive as one element of your larger learning environment. Rather than "doing the computer" or "computer time," the technology should be transparent. If the activity itself interferes with learning, find ways to make it less distracting or time consuming.
Careers in Our Community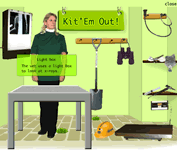 Er Vets by Donna M. Jackson, Zoo Vet software, Veterinary Surgeon online interactive
Elementary School: Careers
Middle/High School: Careers
Try It!
If you need content area specific lesson ideas, do a search on Marcopolo/Thinkfinity. Go a search for a topic and add the word "interactive" or the word "lesson".