Professionals: Carl Harvey II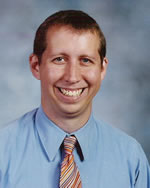 Carl A. Harvey II is beginning his ninth year in education and his ninth year as a teacher librarian. He is the library media specialist at North Elementary School, Noblesville, IN.
School Website: http://north.noblesvilleschools.org/nobln.nsf
Media Center Website: http://www.nobl.k12.in.us/media/NorthMedia/index.htm
Carl is a past President (2004-2005) of the
Association for Media Educators
(AIME). He is also an active member of the
American Library Association
(ALA), the
American Association of School Librarians
(Currently serving as Chair of the Affiliate Assembly, member of the Advocacy committee, and co-chair of the 2007 AASL National Conference in Reno, NV),
Indiana Computer Educators
(ICE), and the
Indiana Library Federation
(ILF) (Currently serving as 2nd Vice-President and co-chair of the 2007 ILF Conference). Carl has served as general chair for the Young Hoosier Book Award (2002-2003. AIME).
Carl Harvey's leadership activities also include writing and publishing several articles in Library Media Connections, School Library Media Activities Monthly, School Library Journal, and Teacher Librarian. His articles have focused on a variety of topics including reading promotion, researching stations, technology integration, and professional development. He and co-authors Marge Cox and Susan Page have a forthcoming new book (2007) from Linworth Publishing about library media specialists and the writing process, and he has another book in the works as well. He has also presented numerous conference sessions at AIME, ILF, AASL, and conducted workshops sponsored by the Indiana Department of Education (IDOE). Carl has also team taught this class, L553.
Carl Harvey has received the Outstanding New Library Media Specialist award from AIME / ILF (1999), the Frances Henne Award from AASL (2000), and the Golden Apple Award from IPALCO / AES (2001). His library media program was one of only four in the state that received the first Blue Ribbon for Exemplary Media Programs (2005) sponsored by AIME.
His professional expertise and interests include:
Library automation
Readership development
Grant proposal writing
Project management
Information literacy / fluency
Library Media public relations
Curriculum and technology integration
"Librarian as consultant" role
Web publishing and site development
For a more complete description of Carl Harvey's achievements, visit his online resume:
http://www.nobl.k12.in.us/media/NorthMedia/LMS/NORTHLMC/HARVEY.HTM
---