I-TOTEMS
I-totems are the information processes, resources, and tools students need to identify essential questions, evaluate multiple perspectives, and make informed decisions.
I-totems involve Information, Time, Opportunities, Tools, Experiences, Motivation, and Strategies that students need to tell stories, show relationships, and describe understandings.
Totems, Technology, & Experiences
Think about yourself and your students. How is technology currently used? How could it be used to learn more about yourself and your students, your class as a collaborative team, and the world around you?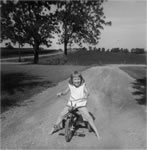 Technology for Me Totems
Consider ways that technology can put students in touch with themselves. What tools and resources can help them express themselves? A digital camera, scanner, and word processor can be use for recording life stories that help students connect their life and interests to the world. For example, photo on the left brings back many memories of visiting my grandparents on the farm in Iowa.
Ask yourself:
What technology tools and resources will help me learn and share my understandings?
Download the Toys Word Document. Write about your memories.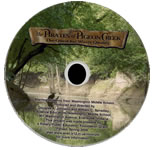 Technology for We Totems
Consider how you and your students can work together on a joint project. For example, Doug Johnson and Bill Spradley, science teachers at Washington Middle School, developed a 37 minute "film within a film" with their middle school science students. The Pirates of Pigeon Creek uses the theme of a hidden treasure to stimulate interest in history and science. Along with demonstrating techniques of gathering water quality data to meet state standards, the video also explores the intriguing history of a local creek that runs into the Ohio River. While students learned important science and technology skills while making the movie, they were also able to share their understandings with future classes that might not be able to take a field trip to the location.
Ask Yourself:
What technologies and activities will facilitate group learning and understanding?
Let's use Google Notebook to organize ideas and resources. Or, try Google Docs. These tools will help you organize and share information.
Technology for Our Totems
Think about ways to expand the experiences of your students through the use of technology. For example, the Voice of Civil Rights website shares the stories of ordinary people during the Civil Rights movement. In the classroom section, students can watch video clips and explore primary source documents from the time period. Consider ways that students can learn about others and themselves.
Ask Yourself:
What technologies will help me understand and enhance my relationship with the world?
Seek out quality lesson ideas:
Thinkfinity/MarcoPolo Search Tool