Elements of a Flight Plan
Consider each of the following elements of an effective flight plan.
Destination
Departure & Arrival Times
Estimated Times
Alternative Airports
Instrument or Visual Guidance
Flight Rules
Airway Route
Fuel
Passenger

Experiment!
Match each item above to an activity you do during planning for technology-rich activities.
Where does the idea of differentiation fit into the elements?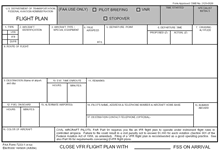 Like the FAA's required plan (on the right), you probably have a standard format for lesson plans. However it's also a good idea to go beyond those plans and develop materials that will address a variety of situations.