Authentic Audiences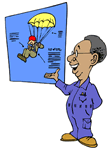 Design learning experiences that promote writing with a purpose.
Identify a real need, authentic audience, and reach beyond the classroom.
Use technology communication tools such as email, blogs, and websites.
Check out Mr. Riley's Kindergarten Molecules in Motion page. How could you get your students involved in class writing projects using a blog?
Check out the science author blog by an elementary class at Authorvisit. How could you connect with a member of the local, national, or international community?
Go to Colorado Wildlife. These children created a website of all the animals in Colorado. Could you develop one for Pennsylvania?
Go to Butterfly Garden. These children created a website on the topic of the Butterfly Garden. Could you create your own website related to a theme?
Explore the projects produced by Mr. Leahy's Fifth Grade Class. How could you share the work of your children?

Experiment!
Brainstorm ways to make connections with parents, the community, and children around the world through authentic writing activities. What's realistic? What tools do you have to produce web pages? Try Kidspiration!