Making Inferences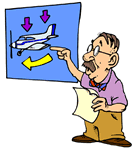 Inference is the reasoning involved in drawing conclusions based on evidence and prior knowledge rather than observation. While some students may be able to practice this critical skill with abstract examples, others may need concrete examples.
When inferring, students must draw conclusions when the answer is never clearly stated. They bring personal meaning to the text by connecting it with prior knowledge. Students must use hints or clues in the text or data to figure out the best solution to the problem or make a decision. They must dig deeper than the surface detail to get to other meanings that are suggested or implied but not stated directly.
When making an inference, you must often choose between possible explanations. For example if a baby is crying, it could have a wet diaper, be hungry, or want attention. If it's almost dinner time, the baby is probably hungry. However it's important to consider the other possibilities before drawing this conclusion.
The Process of Making Inferences
Students must combine the information provided with previous knowledge, experience, and beliefs to come up with the answer. In other words, they make an educated guess or prediction. As a result, not everyone may draw the same conclusion. A person's experience impacts their perspective. As a result, it's important that students get multiple opportunities gain experiences through face-to-face and virtual discussions with others inside and outside the school setting.
While some students may be able to practice this critical skill with abstract examples, others may need concrete examples.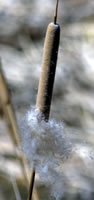 Consider the following questions based on the photos above:
How do cattails disperse their seeds? Why?
What conditions are needed? Dry weather, wind, & water
Students often have difficulty on standards related to inferential thinking. When designing activities, pick a specific performance gap. Then, design a range of concrete to abstract activities to reach different students. Science experiments work well for these kinds of activities. Use the following websites to locate science experiments to try. Use your digital cameras to record the experiment and write about your findings.
Mystery reading is a popular way to promote inferential thinking. For example, the book Chasing Vermeer by Blue Balliett focuses on a mystery about a piece of stolen artwork. Online resources can help studnts collect clues and seek information.
An inference involves developing insight and helping students "see the light". Inferring involves many skills:
asking questions
collecting and analyzing evidence
making connections between prior knowledge and new information
making predictions
making informed decisions
drawing conclusions
Use the following books to promote inferential thinking. Before you begin, ask some of the following questions to get them thinking about inferential thinking.
Has something you read changed the way you think or feel about something? When, How?
Has something you've read made you think about another person's point of view?
Are you a better person because of something you've read?
Grades K-3
An Angel for Solomon Singer by Cynthia Rylant
The Art Lesson by Tomie de Paola
Corduroy by Don Freeman
Creatures of the Earth, Sea, and Sky by Georgia Heard
The Day of Ahmed's Secret by Florence Parry Heide and Judith Heide Gilliland
Floss by Kim Lewis
Fly Away Home by Eve Bunting
Fireflies by Julie Brinkloe
Gettin' Through Thursday by Melrose Cooper
Good Dog Carl by Alexandra Day
Grandfather Twilight by Barbara Helen Begen
How Many Days to America by Eve Bunting
In November by Cynthia Rylant
Jabberwocky by Lewis Caroll
Miss Maggie by Cynthia Rylant
Nocturne by Jane Yolen
Oliver Button is a Sissy by Tomie dePaola
The Other Side by Jacqueline Woodson
Rosie's Walk by Pat Hutchins
The Royal Bee by Frances Park
Sachiko Means Happiness by Kimiko Sakai
The Secret Place by Tomie de Paola in Tomie de Paola's Book Poems
Something Beautiful by Sharon Dennis Wyeth
Tight Times by Barbara Shook Hazen
Twilight Comes Twice by Ralph Fletcher
Where Are You Going, Manyoni by Catherine Stock
Who is the Beast? by Keith Baker
Grades 3-6
Chasing Vermeer by Blue Balliett
Esperanza Rising by Pam Munoz Ryan
Granddaddy's Gift by Margaree King Mitchell
Holes by Louis Sachar
The Lost Years of Merlin by T.A. Barron
Out of the Dust by Karen Hesse
Poppy by Avi
A Wrinkle in Time by Madeleine L'Engle
Questioning to Facilitate Inferential Thinking
"National assessments constantly show us that our students are quite adept at reading to identify specific information, but that they struggle with inferential thinking about what they read." - Doug Buehl in Learning To Make Inferences
First, determine whether the answer is clear or whether it will need to be inferred. Then ask yourself the following questions:
What do I already know about this topic? What do I need to know?
What does it say, what does it mean?
What information (evidence) is available?
What do we know about the people, places, situations, and objects?
What information is most important?
Why is some information more important than other information?
How does one piece of information impact other information?
How is new information connected to background experiences and knowledge?
How does categorizing, comparing, or sequencing information influence understanding?
How can information be weighed to determine the best solution? What are the best clues?
What linkages can be identified? What additional questions arise?

Experiment!
Apply these questions to the needs of children at your grade level. What scaffolding do they need to ask good questions as they use online resources? What tools such as online resources, Word and Kidspiration can be used to organize information and ideas?
Making Inferences from Online Resources
"When you have eliminated the impossible, whatever remains, however improbable, must be the truth." - Sherlock Holmes from The Sign of the Four
Model Inference. Start by sharing short online webpages such as news articles and highlighting the clues that help students make inferences.
Take a "picture walk" through the website.
Use the "think-aloud" technique.
Highlight examples of "reading between the lines"
Ask yourself: What am I thinking? What is the evidence?
Provide Guidance. Use guiding questions to encourage students to make inferences from multiple page websites. Move though a website or series of screens as a large group. Direct student attention through questioning.
As you read, ask yourself:

Why did that happen?
I wonder if...?
What clues can I find?
How does this relate to a personal experience?
I am thinking... because the website says.... and I know that....
When I read... I think (infer)... because ...
What I know from the book... What I know from my brain...

As you think, ask yourself:

What is this used for... ?
What are reasons for... ?
How do you know?
Why is...?
What is my predication or guess?
What is a surprise? Why?
How is that... related to tahat...?
What contextual clues are available?
Does this remind me of something? If so, what?
What evidence supports my ideas?
Maybe/Perhaps... I think... I could be... It means that...
Identify Common Errors. Help students identify common mistakes in website use. At the same time discuss the importance of knowing the origin of the information, perspective of the website, and authority of the author.
Common errors in inferential thinking include:
Jumping to conclusions based on partial information
Relying too much on personal experience
Focusing on literal interpretations
Overlooking clues
Misunderstanding sarcasm
Replying on opinions rather than facts
Practice Inferential Thinking
Students need formal and informal experiences with inferential thinking. Formal experiences are those that are organized by the teacher to build particular types of skills. For example, turn common logic problems into meaningful activities that promote inferential thinking.
Look for other online practice problems using the following topics and ideas.
Riddles
Cloze activities
Puzzles
Jokes
Visual Literacy and Inference
Fill in the missing comic panel
What will happen next in the photograph?
What do you think is happening outside the photo?
What would the next photo would look like?
What caption could you provide that tells the story of this photo?

Experiment!
Explore the problems at the websites above. Turn these problems into interactive PowerPoint Slides with engaging interactive elements and graphics. Create more of your own.
Seek out online activities that promote inferential thinking.
Observation Skills
Inference Skills
Making Inferences in Literature